DM71 Hot Cathode Vacuum Tube Indicator
I'd had this little vacuum tube knocking around for years, and in a recent aim to learn about vacuum tube technology, I thought I'd dig it out.
I did my research, learnt what the tube is, and what it does - This vintage tube's design dates back to the 1950's. It is an indicator, mainly used in radios to indicate signal strength, and also in tape recorders to indicate recording volume levels.
I connected it up according to the datasheet. It takes:
67.5Vdc through a 470KΩ resistor to the Anode.
-7Vdc through a 10MΩ resistor to the Grid.
1.4Vdc directly across the Hot Cathode Filament.
Varying the Grid voltage between 0V and -7Vdc made the length of the green line vary up and down. It's indicated level is proportional to the voltage applied, 0V being full line, -7V being no line. I was quite surprised when it fired up after all these years!
WARNING!
High voltages can harm and kill people. Don't try this at home kids!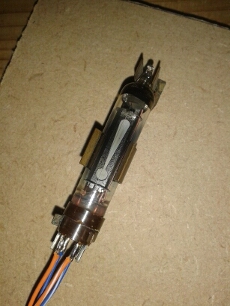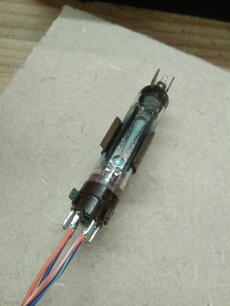 The Hot Cathode Filament is the thin wire right at the front. The Grid is the exclamation mark shaped piece of metal inside. The Anode is at the rear, it's phosphor coating glows green.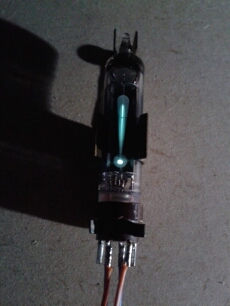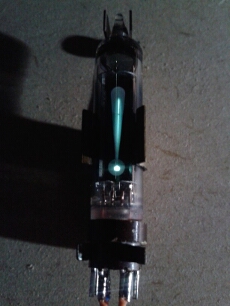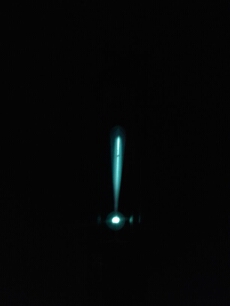 How it works
Negatively charged electrons leave the hot negative Cathode (the thin wire down the front) and are attracted to the positive Anode (the plate at the back). When a negative Voltage is applied to the Grid (the exclamation mark shaped plate in the middle), some electrons are repelled back to the Cathode, as they are only attracted to the positive Anode.
The amount of electrons repelled back is proportional to the negative Voltage of the Grid. At Vgrid=Vcathode, all electrons are allowed to pass to the Anode, where they land on the phosphor coating, making it illuminate. At Vgrid=-7V (with respect to Vcathode) all of the electrons are repelled back to the Cathode, and none get through to the Anode.
This is what makes the visible green line grow / shrink in relation to varying the negative Voltage on the Grid.