UK Cockpit Fest at Newark Air Museum
(Gallery pages per year are under construction, 2009 and 2010 are complete so far, more to come soon...)
This annual UK event is the original CockpitFest. It started in 2000, and the event has been held every summer since at Newark Air Museum.
In recent years, this popular event has spread to Australia and the USA, and also other smaller cockpit gatherings in the UK
CockpitFest is an amazing opportunity for networking - for anyone wanting to make connections in the classic aviation game. People come mainly from across the UK, but also from across Europe each year. I've made some very good friends through meeting people at the 'Fest.
My displays at the 'Fest
Since 2009 (with the exception of 2012) I've put my collection of flying helmets / oxygen masks on public display for the weekend.
The collection generates some good interest with public and aircrew visiting the event. It's nice to talk to ex-RAF pilots recalling which helmets they preferred, and which caused them issues.
The museum's website has a couple of pictures of Cockpit Fest displays in their gallery: newarkairmuseum.org/gallery.
The first time I'd attended the event, so had no idea what to expect... I simply took my collection along on the Saturday only, and dumped it on a table. Still, it generated some interest though.
CockpitFest 2009 Photo Gallery
For this year, I constructed a display stand that got nicknamed the "Helmet Tree". It won me a nice bottle of Single Malt Scotch for the Best Non-Cockpit Display! Cheers!
I also displayed the Lightning T5 PTR-175 Radio set for people to have a go listening to the sounds of a cold-war fighter jet.
CockpitFest 2010 Photo Gallery
CockpitFest 2011:
Due to our house restoration project, it was a bit of a last minute decision to go, which meant no preparation time - so my display was just a bigger version of my first table-top display in 2009.
CockpitFest 2013:
2013 saw an extensive team effort... Headgear on display from myself, Rob Pettifer, Rich Fryer and Rob Brown.
Between us, we managed to put together a fairly comprehensive display of most types / models of oxygen mask used by the RAF from WW2 to modern day.
I also made a special display for this event, a cutaway Mk3C helmet, revealing the inner workings.
This joint effort won us the Visitors Exhibit Award, for which we were very grateful for the visitors votes! Thank you!
CockpitFest 2014:
A last minute chance to attend the event - I was supposed to be offshore in the North Sea, but my trip was cancelled shortly after arriving on the oil rig. So I had lunch, then an afternoon helicopter ride home, and I could go to the Fest!
This however meant that with no preparation time I just decided to do a little cold-war reenacting for photographs with the museum aircraft, which was a bit of fun!
Some of the images turned out quite nice.
CockpitFest 2015:
The year it rained...
The Helmet Tree made a repeat appearnace, along with a table of helmets and oxygen masks. I had put on a similar display the previous weekend at Youth Aviation Day, so had most of my collection in order to display at the 'fest.
The weather was appauling. Camping in torrential rain was a nightmare, but we still had fun, and the best part of 30 cockpits turned up!
An interactive display, taking peple back 35 years to the Falklands war, and a fun little musical story...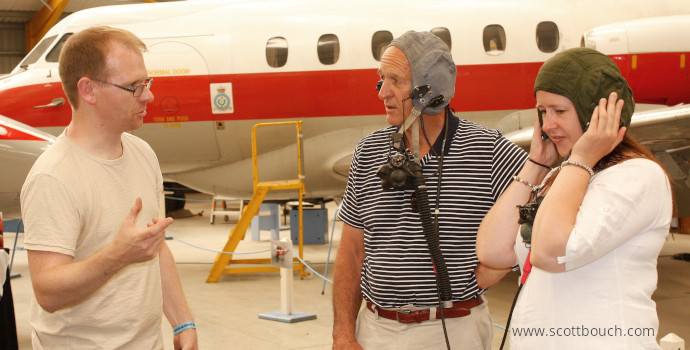 CockpitFest 2020:
2020 wasa cancelled due to the arrival of the Covid19 pandemic.
Scuppered. Sadly I had to cancel our attendance due to a positive Covid test in my family on the eve of the event.. but a remote display was put together to show support in spirit!